In our quest to reduce the social and environmental impact of our production, we have chosen to favour the use of materials that are "as local as possible". Thus we can announce that almost all our suppliers (leathers, fabrics, felts, glues, threads, laces, soles, eyelets and hooks) are located less than 1100km from Béarn and that 60% of them are within a 350km radius.
We work with many local companies such as Laulhère (berets made in Béarn), Moutet (linen made in Béarn) to develop original creations since 2019, or we rely on the tanneries of our Basque neighbours to ensure quality, local employment and security of supply. For obvious reasons of quality and compliance with the strictest social and environmental regulations, we mainly use leather from reputable French tanneries
100% of our suppliers within 1100 km of Bearn.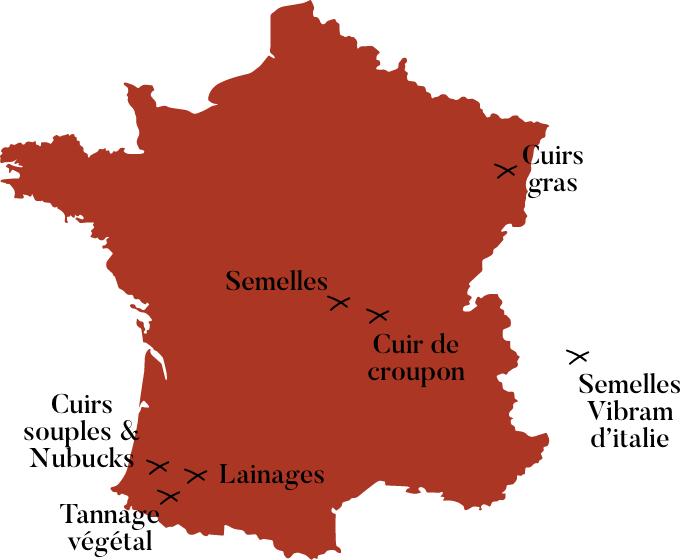 Tannery Remy Carriat in Espelette in the Basque Country (Living Heritage Company) for soft leathers (grained or smooth) and top quality nubucks. Garat in Armendarits in the Basque Country (Entreprise du Patrimoine Vivant) for vegetable tanning for our assembly and cleaning raw materials. Degermann in Barr in Alsace, specialised in thick fatty leathers, particularly appreciated for their durability and the suppleness of the "Ossau" mountain model. Tannerie Fortier Beaulieu in Roanne, Loire, for the very specific croupon leather of our Vignemale model.
The mottled beige woollens (natural colour) used on some of our models are made from the wool of Barégeoise sheep from our favourite shepherd, Pierre Pomiès (in Coarraze in Béarn), only 3 km from our workshop. After shearing and spinning, the weaving is done by Pyrénées Création (with the label "Entreprise du Parc National des Pyrénées").
Sacred (Allier) and Vibram/Tranchant (Ain/Northern Italy) for the soles, Sodefar (Toulouse) and Crispin industries (Maine & Loire) for the threads and products for shoe repair, Bourgeois et Cie (Loire Atlantique) for the glues without toluene, the Avel Group (Charente) for the cleaning products, Maison Mulard for cognac polish and vegetable grease (EPV in Paris), Maison Poursin (Paris) for belt buckles, Sokkol (Maine et Loire) and Daudé (Belgium) for hooks and eyelets, Societe Choletaise de Fabrication for laces and MMI (Marmande – Lot et Garonne) for foam filler
Want to know more about us ?
Discover our workshop history!