Le Soulor workshop founded in 1925
The Pontacq workshop
The activity of Pontacq is linked to leather by the installation of many tanneries in the 16th century. Naturally, shoemakers settled down, many of them working at home for a boss in addition to another activity (agriculture, tanning). The production of shoes in Pontacq increased regularly until the beginning of the 20th century. In 1925, the Paradis-Pommiès workshop, now renamed Le Soulor 1925, was created.
At the time of its creation, the workshop mainly made studded leather-soled brodequins, and sometimes airmen's boots. Other more formal models completed the range and were regularly delivered to the Samaritaine and the Bon Marché in Paris. From this period, the emblematic mountain hiking model remains, the DNA of the brand which is still in great demand by our customers, whether they are shepherds, hikers or lovers of fine workmanship.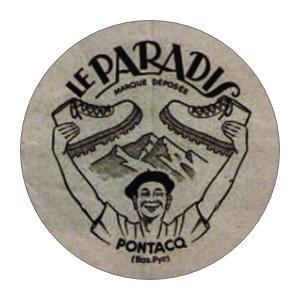 A new generation to perpetuate the know-how
Joseph (known as Aldo), the last descendant of the Paradis-Pommiès family who founded the Atelier, retired in 2016 without any successor. Stéphane, soon joined by Philippe, took over. And it is through the expertise of the last worker of the Atelier Robert, that everything becomes possible again.
Durable and resealable shoes
The "Norwegian welt " technique is used. This technique is rarely used nowadays because it is complex and time-consuming. This technique, still used today in the workshop, combined with top quality leather, ensures robustness, waterproofing and unlimited resealing possibilities for our models.
Today, a new team in a new workshop.
Une nouvelle génération pour pérenniser le savoir-faire

Men and women put their talents at your service, perpetuating the "Made in France" concept with French raw materials of superior quality. Proud to promote French and Béarn know-how!
January 2021, the Pontacq workshop is becoming too small and outdated, we are moving… Come and visit our new workshop in Nay, a few kilometres from the previous one, inaugurated at the beginning of 2021, in the south-western part of Béarn. Share with us this love of beauty and well-made products. Let yourself be carried away by the leather fragrances and the softness of the materials.
Buy differently, wear Pyrenean shoes, think sustainable.
Would you like to know more about our workshop?
Discover the team that makes your shoes ?